---
Updating the Federal Trade Commission's Funeral Rule
Background
The Federal Trade Commission (FTC) is considering updating and strengthening The Funeral Rule, a regulation that protects consumers by requiring funeral homes to provide consumers with prices if requested in-person or by phone, to include other forms of communication like email, and websites. Since the Funeral Rule was created in the 1980s it doesn't include modern forms of communication like emails and texting, or websites. We know that consumers can potentially save thousands of dollars on funeral costs by shopping around and comparing prices, however the FTC's 2020 review found that over 60% of funeral homes had little to no pricing information on their websites. This update would not only be beneficial to everyone, but it has the potential to improve access for disabled, low income, and non-English speaking communities, as well as families planning funerals out-of-state.
The FTC is considering a number of updates in addition to online price disclosure including clarifying the language around embalming, and including options like green burial, aquamation, and human composting.
What We Are Doing
The Order believes that funeral pricing and practices should be transparent and accessible so the public can make informed choices, and avoid paying for goods and services they do not want or need. Earlier this year the Order launched a campaign to inform the public about the FTC soliciting comments about the proposed changes to the Funeral Rule and how it could impact them.
In May the FTC reached out to the Order to request a meeting to get our input on the proposed Funeral Rule changes. In June and July we had two meetings with the FTC in which we advocated for consumer rights, transparency of pricing, and expanding accessibility. At the invitation  of the FTC we will be participating alongside other leading experts at their Funeral Rule Workshop on September 7th, where we will speak on the proposed changes and continue to advocate for and protect your rights.
What You Can Do
The FTC is inviting the public to submit their comments to help them decide if the Funeral Rule should be updated. We encourage you to leave a comment regarding updating the Funeral Rule to require funeral homes to provide pricing information on websites, or if requested via email or through a their website's contact form, as well as other issues including clarifying your right to decline embalming, and address new forms of disposition like human composting and aquamation. You can review a complete list of changes being considered here.
You can leave a comment up to October 10, 2023. 
How to Leave a Comment
Step 1: Go to the Regulations.gov website. Copy and paste "Funeral Rule ANPR, 16 CFR Part 453, Project No. P034410" into the "search," and then click on the green "search" button.
Step 2: This will take you to a page with "Funeral Industry Practices Rule." Beneath this is a "Comment" button, click on this.
Step 3: You can now leave your comments on the page provided. We strongly suggest clicking on the FTC's "Commenter's Checklist" and read through to see how to make your comment effective. You can also read through this summary of effective arguments to help form your own.
If you prefer you may also submit your comments by mail:
Federal Trade Commission, Office of the Secretary
600 Pennsylvania Avenue NW, Suite CC-5610 (Annex B)
Washington, DC 20580.
Status
The deadline for public comment has been extended to October 10, 2023. The Order will also be speaking on a panel at the FTC's public Funeral Rule Workshop on September 7, 2023 to provide input on the proposed changes.
---
Help Legalize Human Composting and Aquamation in Massachusetts
A hearing is currently scheduled to take place in late September. As of now, legislators are seeking additional co-sponsors for the bill. You can share your support with your Massachusetts Representative and Senator via email and request that they sign onto the bill. This would provide a huge boost to the legislation's momentum in upcoming sessions. Use this tool to find the contact info for your MA Rep, and email them using the template below, making sure to include your heartfelt reasons for supporting human composting and aquamation!
Dear [REPRESENTATIVE OR SENATOR],
I hope you will co-sponsor H2193/S1339, An Act expanding after-death care options. This legislation will add natural organic reduction and alkaline hydrolysis as permissible forms of disposition under the Mass General Law. Alkaline hydrolysis is currently legal in twenty-seven states, and natural organic reduction is legal in six: Washington, Colorado, Oregon, California, Vermont, and New York.
Thank you for your attention to this legislation.
[NAME]
[ADDRESS]
---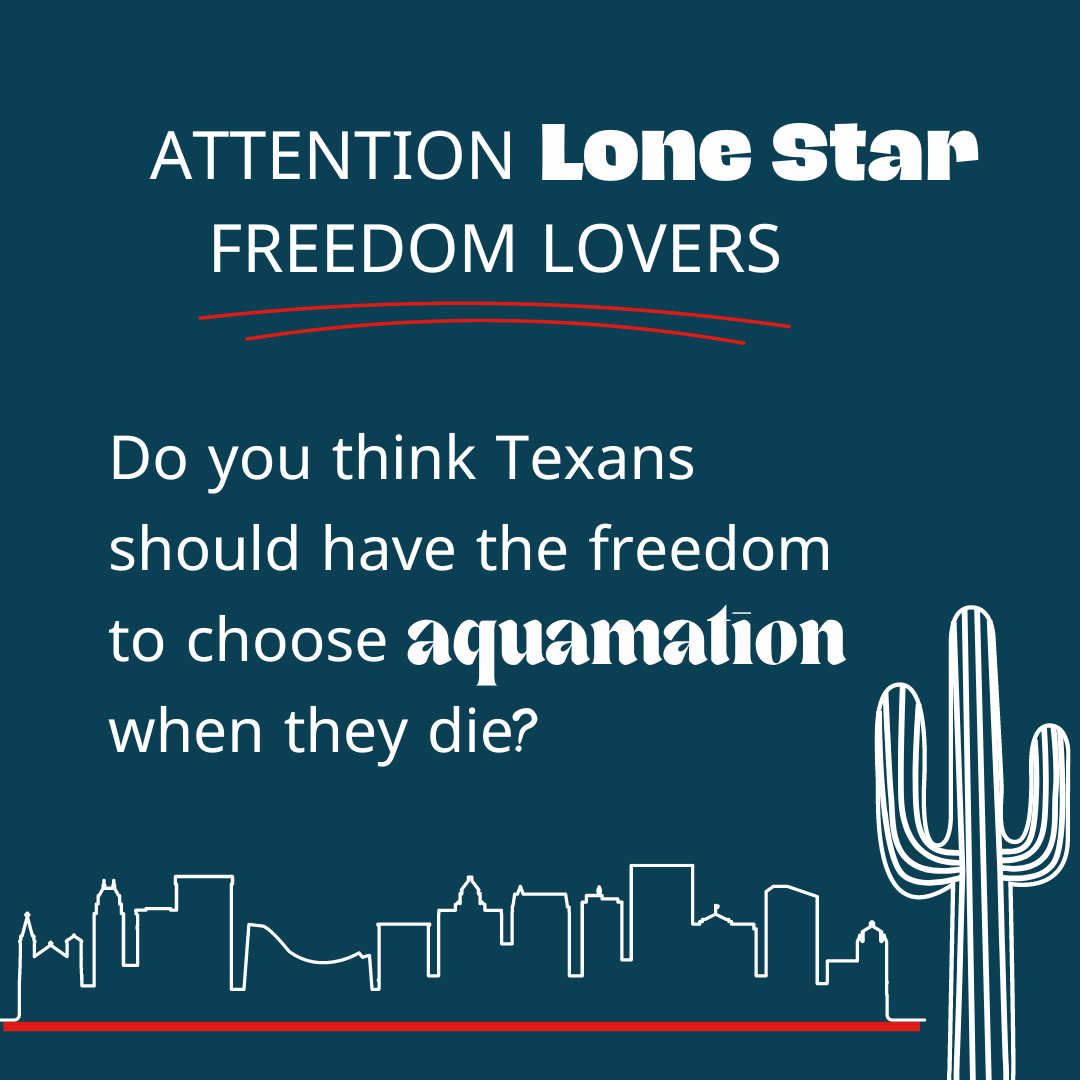 Legalize Aquamation in Texas
Background
SB105 has been filed by Senator Nathan Johnson (District 16, Dallas County) to clarify the legality of alkaline hydrolysis, (aka water cremation), a greener alternative to cremation, in Texas.
What We Are Doing
The Order has partnered with Live Free, Die Free Texas to support efforts to pass this legislation.
What You Can Do
You can take action now by signing this petition urging lawmakers to give Texans the freedom to choose what happens to their bodies in death.
Status
Bill was referred to the Public Health Committee for review in March 2023.
---
Human Composting, aka Natural Organic Reduction
Background
To put it simply, human composting aka Natural Organic Reduction (NOR) refers to an eco-friendly alternative to burial or cremation wherein a body is turned into nutrient-rich soil. Recompose, founded by Founding Order member Katrina Spade, has spearheaded the legalization process across the country. As of 2023 composting is currently legal in Washington, Colorado, Vermont, Oregon California, Nevada, and New York, with bills having been introduced in  a number of states.
Learn more about composting in our Green Death Tech  resource.
What We Are Doing
Our organization and founding members continue to work closely with assembly members in their efforts to legalize composting across the United States. The Order has been featured in numerous articles about this issue, and along with several founding members have provided testimonies to lawmakers in favor of this legislation in several states. The Order has also created videos educating the public of the benefits of NOR, used its social media platforms to mobilize support around this legislation, and detailed guide about how a composting bill becomes a law.
What You Can Do
Learn more about the legalization efforts and get notifications for any calls to action by signing up for our newsletter, the Death Positive Advocate. You can follow the Order of the Good Death on social media to get real time updates and action alerts. We have also created a guide for advocates who are looking for ways to become more involved in the legalization process.
Status
Bills to legalize composting are active in the following states:
Massachusetts – Please see our current Call to Action for this bill.
Minnesota – SF3134 was introduced in the House of Representatives on March 6th. It will not be voted on in 2023, but will be reintroduced in 2024.
Rhode Island – H6045 was introduced in March 2023.
New Mexico – In February 2023 Bill SB407 was introduced.
Maryland – On March 20, 2023, Maryland House of Delegates passed HB 1060. The bill now moves forward to the Maryland Senate.
Illinois – HB3158 currently has a dozen co-sponsors. It was filed on on February 16, 2023.
Maine – Bill LD536 was introduced in February 2023.
Connecticut – Bill HBO6485 was introduced in January 2023 and is currently in progress.
Nevada – A bill was introduced in March 2023. The bill was signed into law by the governor in May 2023, making Nevada the seventh U.S. state to legalize composting.
New Jersey – In February of 2023 Bill S3610 was introduced.
---
Aquamation (also known as Alkaline Hydrolysis or Water Cremation)
Background
Alkaline Hydrolysis is a more eco-friendly alternative to traditional cremation. Instead of being burned at a high temperature, bodies are dissolved in liquid which eliminates the greenhouse gases that traditional cremation produces. Another benefit of this process is that Alkaline Hydrolysis can help to restore traditional native Hawaiian burial practices. Learn more about Alkaline Hydrolysis.
What We Are Doing
From consulting on the creation of the bill to providing testimony, The Order was instrumental in getting Alkaline Hydrolysis legalized in California. In addition to the Order of the Good Death creating videos, and publishing articles educating the public about the process and benefits of Alkaline Hydrolysis, we have continued to advocate for the legalization of this process across the country in press coverage and by putting out calls to action on our social media platforms.
What You Can Do
You can keep track of legalization efforts around the country as well as find out if it is legal in your state. If you have social media, you can also follow the Order of the Good Death to get real time updates and alerts about upcoming legislation. If you live outside of the U.S. find out whether Alkaline Hydrolysis is being spoken about and/or advocated for in your country.
Status
Take action now by signing this petition urging lawmakers to legalize aquamation in Texas.
---
Open Air Funeral Pyres
Background
As the name suggests, this is a practice where bodies are cremated outdoors under the open sky. This practice can provide a more intimate, healing experience for participants while also providing a pathway for some Indigenous tribes to restore traditional funeral and burial rituals. This practice is currently only legal in Crestone, Colorado but there are currently ongoing efforts to legalize this practice in Vermont, Maine, and Minnesota. Learn more about this practice.
What We Are Doing
The Order of the Good Death continues to share information and resources around this burial ritual with our audience as well as providing updated information on the legislative efforts in Vermont, Maine, and Minnesota.
What You Can Do
To find out ways to support the ongoing efforts in Maine, check out Good Ground Great Beyond, and in Minnesota, Northern Pyre.
Status
Bill H.216, an act to legalize open air cremation pyres was introduced in March 2023 by Rep. Matt Birong. It is currently being reviewed by the General and Housing Committee.
---
The People's Response Act
Background
On June 28, 2021 Congresswoman Cori Bush (MO-01), Congresswoman Ayanna Presley (MA-07), Congresswoman Jan Shakowsky (IL-09), and Congresswoman Pramila Jayapal (WA-07) introduced the People's Response Act which reframes public safety as a public health issue. This act would create a new agency within the Department of Health and Human Services that would research and fund alternatives rooted in community health and safety, instead of incarceration and policing which often result in preventable bad deaths. Find out more information on this legislation.
What We Are Doing
The Order of the Good Death continues to vocally support this bill.
What You Can Do
There are two ways that you can support this legislation. The first is by signing the petition.
The second is by letting your Congressperson know that you support this act by contacting them. Resist.bot has made this easy; all you have to do is text 'Resist' to 50409 and Resist.bot will help you send an email or fax to your Congressperson.
Status
At the end of 2022 the People's Response Act was referred to the Subcommittee on Crime, Terrorism, and Homeland Security. In July 2023 a press conference was held to reintroduce the People's Response Act.
---
Fetal Tissue Burial Laws
Background
Across the country, states are passing laws that place requirements on how fetal tissue and remains are handled. While legislation varies from state to state, the majority require that fetal tissue be buried or cremated as is required of human bodies. This type of legislation not only further stigmatizes abortion and miscarriage, but also allows the funeral industry and politicians to further exploit people and fuel their fear of death. Learn more about fetal tissue burial laws.
What We Are Doing
The Order of the Good Death has put together a list of resources and contacts for people navigating these laws, and an article detailing how the Death Positive Movement can counteract anti-choice efforts. The Order has also provided grant funding to A Sacred Passing to develop a program to increase the access to education for people wanting to learn how to support and care someone through abortion and pregnancy loss. We continue to monitor legislation and push out calls to action when appropriate.
What You Can Do
As states continue to pass restrictive fetal tissue burial laws it is important to make your voice heard about how this places an undue burden on both providers and pregnant people. One easy way to reach out to your legislators is through Resist.bot. Simply text 'Resist' to 50409 and this service will turn your text messages into a letter to either fax or email directly to your chosen representatives.
Status
In May 2023 the the U.S. Supreme Court declined to take up a lawsuit challenging Indiana's fetal burial laws.
---
African American Burial Ground Network Study
Background
Senate Bill 2827 of the 116th Congress was introduced as a way to study and find ways to identify, interpret, preserve, and record unmarked, previously abandoned, or otherwise underserved African American peoples' burial grounds. To read the full text of this bill, click here. The bill was passed by the Senate on December 20, 2020 but was never passed by the House.
What We Are Doing
The Order of the Good Death was one of the official signers of this bill when it was introduced to the Senate by Senator Sherrod Brown (D-OH) and Senator Tim Scott (R-SC). In addition to this, The Order has continued to create videos and publish articles  centering on the history and preservation efforts of Black burial spaces.
What You Can Do
At the end of 2022 Senate Bill 2827 (116th) secured inclusion in the omnibus bill.
Status
President Biden is expected to sign the bill into law in 2023.
---
End of Life Option Act
Background
The California End of Life Option Act (ABX2-15) allows terminally ill Californians to request medication to peacefully end their lives and free them from suffering. Read the full act.
What We Are Doing
In 2015, in addition to founder Caitlin Doughty serving on the Southern California Advisory Council for bill sponsor Compassion & Choices, the Order of the Good Death successfully launched a social media and information campaign to help get this bill passed.
What You Can Do
To stay up to date on current legislative efforts around end of life rights check out Compassion & Choices.
Status
Medical Aid in Dying laws have passed in the following states as of 2023: Oregon, Washington, Montana, Vermont, Colorado, California, Washington D.C., Hawaii, New Jersey, Maine, New Mexico.